Episodes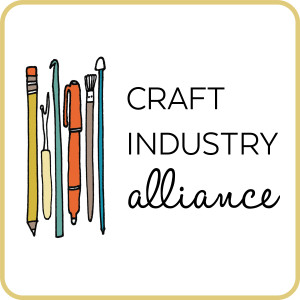 Monday Feb 05, 2018
Monday Feb 05, 2018
On today's episode of the Craft Industry Alliance podcast I'm talking with Melanie Ham about YouTube. 
Melanie is a YouTuber and blogger who loves to create and share easy to follow sewing, quilting and crochet video tutorials to empower your creativity. She discovered sewing shortly after graduating with an art degree with emphasis in art history from California State University of Northridge when she found herself with more time on her hands after her husband joined the U.S. Army in 2007. Along the way she picked up crochet because it was easy to travel with and in the fall of 2010 made her first quilt. 
What started out as a way to be creative and stay busy turned into an obsession and by 2011 had started a blog and YouTube channel.  She now has over 400,000 subscribers on YouTube with over 32 million views and has grown to include premium content on melaniesmakers.com as well.  After living in Alaska and Hawaii with the Army, she and her husband Robert, two cute kids, one new rescue puppy and her trusty studio cat now reside back home in Los Angeles where they are both self employed creatives and enjoy spending time with their kids and extended family enjoying southern California's amazing weather.
+++++
This episode is sponsored by Crosscut Sewing. Located in Melrose, MA or online at CrosscutSewingCo.com, Crosscut offers fun and modern fabric for all of your sewing projects.  In addition to quilting cotton, Crosscut offers a variety of apparel fabrics like denim, chambray, jersey knit, canvas, corduroy, flannel and more.  Use the code WSN18 to save 20% on your next fabric purchase.
+++++
Please note that this show used to be called the While She Naps podcast. The name has changed, but the content and host have stayed the same.
To get the full show notes for this episode, visit Craft Industry Alliance where you can learn more about becoming a member of our supportive trade association. Strengthen your creative business, stay up to date on industry news, and build connections with forward-thinking craft professionals. Meet with show host, Abby Glassenberg, each month for our Craft Business Roundtable, get access to courses and webinars taught by industry leaders, and much more.