Episodes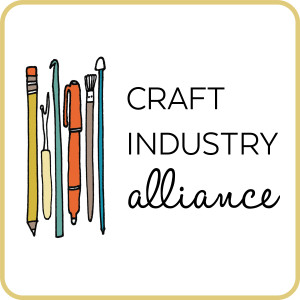 Monday Mar 19, 2018
Monday Mar 19, 2018
On today's episode of the Craft Industry Alliance podcast we're talking about building an audience around your creative passions with my guest, Lauren Fairweather.
Lauren Fairweather is a YouTube content creator, Etsy seller, and independent musician who runs all of her creative businesses from home. This YouTube NextUp winner and mom of one has created videos for many companies including HGTV, SyFy, Simplicity, Intel, and Guitar Center and she recently starred in a video course for YouTube's Creator Academy. When she can get out of the house, Lauren enjoys speaking on panels, selling her handmade work, and performing her original music at online video and nerd-themed conventions around the world. 
We talk about getting comfortable being a super fan, building an audience on YouTube, Patreon, and much more.
+++++
This episode is sponsored by Spoonflower. If you're a creative person who loves to design, there's nothing quite like the feeling of seeing your art printed onto fabric, or better yet — seeing someone across the globe purchase it and make something amazing.
Spoonflower is the first company to make it possible to digitally print custom fabric, wallpaper and gift wrap with no minimums, and no limitation of colors. Shop from thousands of indie designs, or sell your own designs and earn up to 15% commission on every sale. The best part? As an independent seller you always keep the rights to your work. Craft Industry Alliance podcast listeners can get 15% off your next Spoonflower fabric order. Go to try.spoonflower.com/abby and enter your email address to receive your coupon code.
+++++
Please note that this show used to be called the While She Naps podcast. The name has changed, but the content and host have stayed the same.
To get the full show notes for this episode, visit Craft Industry Alliance where you can learn more about becoming a member of our supportive trade association. Strengthen your creative business, stay up to date on industry news, and build connections with forward-thinking craft professionals. Meet with show host, Abby Glassenberg, each month for our Craft Business Roundtable, get access to courses and webinars taught by industry leaders, and much more.