Episodes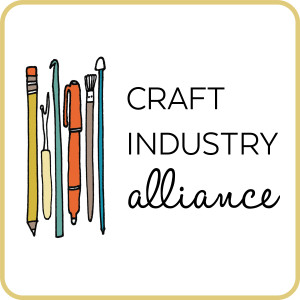 Monday Apr 02, 2018
Monday Apr 02, 2018
On today's episode of the Craft Industry Alliance podcast we're talking about building a career as a fashion design expert with my guest, Lesley Ware.
Lesley helps young fashionistas of all strips discover their personal style and talents through fun and creativity. Her passion for inspiring young people began when she earned her degree in elementary education and continued when she orchestrated a national program for the Girl Scouts. She has previously written two books on style and fashion design for girls, Sew Fab: Sewing and Style for Young Fashionistas and My Fab Fashion Style File (Laurence King). Her 3rd book, How to Be a Fashion Designer, was released last month published by DK Books.
Lesley teaches at The Parsons School of Design, The Metropolitan Museum, Museum of the City of New York and other arts institutions in New York. Her sewing studio is based in Brooklyn where she is designing a capsule collection based on a recent road trip to Kentucky with her dad. 
Lesley interacts with young people every day while teaching sewing at a high school in East New York so I ask her what this age group is thinking about when it comes to sewing and crafts. She has some excellent insights that are applicable to anyone who would like to market to or teach the next generation of sewists.
We also talk about how Lesley's books came to be. Her first book deal is a fascinating story involved both serendipity and preparedness. 
Lesley has a unique approach to thinking about the problems presented by fast fashion. She explains how she teaches her students to better understand clothing construction and how she herself shops with an eye toward quality. Lesley is an expert at upcycling and refashioning thrifted finds and describes her fabulous style as "nerdy librarian."
+++++
This episode is sponsored by Camp Stitches.
Exclusively for Craft Industry Alliance listeners, you can get 20% OFF your choice of a Camp STITCHES -- Destination Vermont workshop. The Camp STITCHES experience is like no other. Spend an enchanting weekend, May 31st thru June 4th at the The ESSEX Resort & Spa exploring lace, Fair Isle, dyeing, knit or crochet garment design and Japanese Boro hand stitching and quilting with our stellar line-up of amazing instructors. Reserve your spot now by visiting www.STITCHES.events/CampVermont and entering the coupon code WSPVERMONT18 at check-out.
+++++
Please note that this show used to be called the While She Naps podcast. The name has changed, but the content and host have stayed the same.
To get the full show notes for this episode, visit Craft Industry Alliance where you can learn more about becoming a member of our supportive trade association. Strengthen your creative business, stay up to date on industry news, and build connections with forward-thinking craft professionals. Meet with show host, Abby Glassenberg, each month for our Craft Business Roundtable, get access to courses and webinars taught by industry leaders, and much more.