Episodes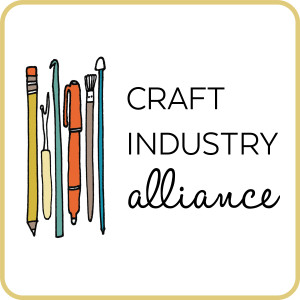 Monday May 07, 2018
Monday May 07, 2018
On today's episode of the Craft Industry Alliance podcast we're talking about blogging and writing a book with my guest, Florence Knapp.
Florence is a quilter and dressmaker. For over a decade she has kept a blog, Flossie Teacakes, where she shares her adventures with a needle and thread and the life that goes on around her stitching. During this time she has designed sewing patterns and her work has been featured in various magazines, as well as in a book produced by the V&A Museum.
Florence's early years were spent in England and Australia, where her childhood homes were filled with vibrant color and intense pattern. As an adult, she found quiltmaking offered the perfect canvas on which to continue to embrace these things, as well as to indulge her love for small-scale precision work through fussy-cutting and English paper piecing. In May 2018 her first book, Flossie Teacakes' Guide to English Paper Piecing, will be published.
+++++
This episode is sponsored by Ettie & Marion. Ettie and Marion creates truly original fat quarters for the modern quilter. As a small, independent screen-print and fabric design company, Ettie and Marion can release new fabrics as soon as inspiration strikes. See what's coming next by following @EttieandMarion on Instagram or check out the website at ettieandmarion.com
+++++
Please note that this show used to be called the While She Naps podcast. The name has changed, but the content and host have stayed the same.
To get the full show notes for this episode, visit Craft Industry Alliance where you can learn more about becoming a member of our supportive trade association. Strengthen your creative business, stay up to date on industry news, and build connections with forward-thinking craft professionals. Meet with show host, Abby Glassenberg, each month for our Craft Business Roundtable, get access to courses and webinars taught by industry leaders, and much more.