Episodes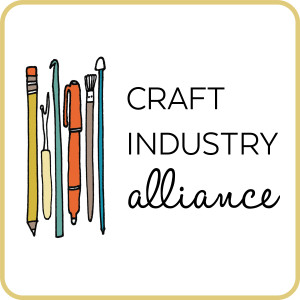 Monday May 21, 2018
Monday May 21, 2018
On today's episode of the Craft Industry Alliance podcast we're talking about art as community organizing with my guest, Shannon Downey.
Shannon Downey is an instigator. Currently, she is the Director of Development for Asian Americans Advancing Justice in Chicago where she raises funds to grow and protect immigrant and refugee rights and power through civic engagement and language access. She's also adjunct faculty at Columbia College and DePaul University where she teaches Creatives how to build empires that will pay the bills and change the world.
Shannon is best known, though, by her alias – Badass Cross Stitch – where her shenanigans tend to get the most attention. In this role, Shannon is a community organizer disguised as a fiber artist and craftivist. She blends politics, activism, and art into projects that are designed to inspire others to take action, think, discuss, engage with democracy and their community, and find some digital/analog balance to boot! Her work has recently been featured in Vogue, Harper's Bazaar, Time, and Money to name a few. 
+++++
This episode is sponsored by Folkwear Patterns. 
Since 1976, Folkwear has provided high-quality sewing patterns based on authentic vintage and folk clothing from around the world. Folkwear's sewing patterns are loved by home sewists, costumers, re-enactors, and any who loves to sew with creativity.
+++++
Please note that this show used to be called the While She Naps podcast. The name has changed, but the content and host have stayed the same.
To get the full show notes for this episode, visit Craft Industry Alliance where you can learn more about becoming a member of our supportive trade association. Strengthen your creative business, stay up to date on industry news, and build connections with forward-thinking craft professionals. Meet with show host, Abby Glassenberg, each month for our Craft Business Roundtable, get access to courses and webinars taught by industry leaders, and much more.