Episodes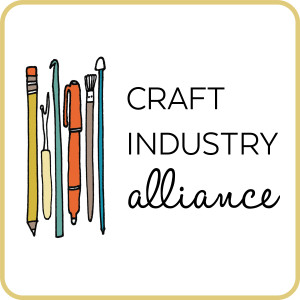 Monday Jul 16, 2018
Monday Jul 16, 2018
Please note that we had audio recording issues with this episode. We did our best in post-production, bug the audio quality is not up to our usual standards. We apologize.
On this episode of the Craft Industry Alliance podcast, we're talking about elevating haberdashery with my guest, Carolyn Denham. Together, Carolyn and her husband Roderick Field are the owners of Merchant & Mills, a fabric, notions, and patterns company based in the UK. They founded the company in 2010 with the intention of bringing style and purpose to the overlooked world of sewing. Merchant & Mills products are stocked in retailers all over the world and the company has collaborated with London's V&A Museum and with Alexander McQueen. The pair have published three books that aim to enable and inspire more people to find the satisfaction of simply making. Carolyn has a degree in fashion design and has worked in New York, Italy, and London.
We had an issue with the sound quality on this episode. Carolyn has a fantastic story to tell so I hope you'll stick with it.
+++++
Today's show is sponsored by Hello Atelier, the podcast that takes you inside the artist's studio. Join host Betsy Blodgett as she sits down with quilters, textile artists, ceramicists, painters and more many in their very own studios. Further immerse yourself in creative worlds by visiting www.helloatelier.org to see photos from their studio visits and links to each artist's work. Then, sign up for the Hello Atelier newsletter for bonus interviews with makers and entrepreneurs – past guests include While She Naps' Abby Glassenberg! Hello Atelier is available on your favorite podcast app. Tune in to their latest episode with quilter Luke Haynes. If you like what you hear, please subscribe and give them a rating.
+++++
Please note that this show used to be called the While She Naps podcast. The name has changed, but the content and host have stayed the same.
To get the full show notes for this episode, visit Craft Industry Alliance where you can learn more about becoming a member of our supportive trade association. Strengthen your creative business, stay up to date on industry news, and build connections with forward-thinking craft professionals. Meet with show host, Abby Glassenberg, each month for our Craft Business Roundtable, get access to courses and webinars taught by industry leaders, and much more.