Episodes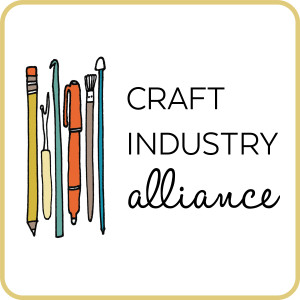 Monday Sep 03, 2018
Monday Sep 03, 2018
On today's episode of the Craft Industry Alliance podcast we're talking about building a career in as an expert in the quilting industry with my guest, Ebony Love.
 An award-winning author and quilter Ebony is recognized as one of the leading experts in fabric die-cutting techniques. She's best known as the author of The Big Little Book of Fabric Die Cutting Tips and the featured long arm columnist for Quilty Magazine, though she regularly contributes to other magazines, videos, and television programs. She's fond of blindingly-bright prints and takes a contemporary approach to traditional designs. Her website is http://lovebugstudios.com
+++++
This episode is sponsored by Crosscut Sewing. Located in Melrose, MA or online at CrosscutSewingCo.com, Crosscut offers fun and modern fabric for all of your sewing projects.  In addition to quilting cotton, Crosscut offers a variety of apparel fabrics like denim, chambray, jersey knit, canvas, corduroy, flannel and more.  Use the code WSN18 to save 20% on your next fabric purchase.
+++++
Please note that this show used to be called the While She Naps podcast. The name has changed, but the content and host have stayed the same.
To get the full show notes for this episode, visit Craft Industry Alliance where you can learn more about becoming a member of our supportive trade association. Strengthen your creative business, stay up to date on industry news, and build connections with forward-thinking craft professionals. Meet with show host, Abby Glassenberg, each month for our Craft Business Roundtable, get access to courses and webinars taught by industry leaders, and much more.