Episodes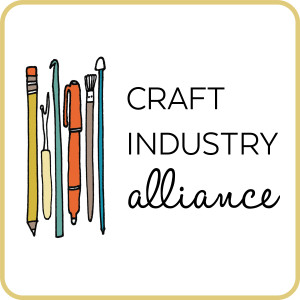 Monday Jan 20, 2020
Monday Jan 20, 2020
On today's episode of the Craft Industry Alliance podcast, we're talking about collaborations with my guest Angela Smith and Liz Gipson.
Angela founded Purl & Loop in 2012 after realizing her "ladder was against the wrong wall" in her sales career and she was determined to find a calling that brought joy and creativity to the world.  While she enjoyed needle crafts, she was more focused on the idea of creating a business from them rather than actually doing them. Since she focused on operations and process in graduate school, the world of manufacturing always had a special attraction.  Purl & Loop was originally a fiber related e-commerce site.  Upon discovering the world of laser cutters in 2014, Purl & Loop moved into the business of creating portable weaving looms and accessories.  Her goal is to create fun, cute and simple weaving products to help makers use up their yarn and thread stash.  When her mind is overactive with creativity, usually in the middle of the night, she reads mystery novels........she averages about one per week.
Liz Gipson has an educational background in community development, wool science, and adult education, and a lifetime of exuberance for introducing beginners to the art and craft of weaving. She hosts a community-funded, online weaving school for rigid-heddle weavers and a resource-rich website. She has written many books about rigid-heddle weaving both self-published and for established publishers. Liz has worked for herself for the past 8 years and before that worked in the yarn trade in publishing and manufacturing. Having spent nearly 20 years in the yarn industry and more than 30 as a weaver, she really enjoys collaborating with yarn makers, tool suppliers, and fellow makers to create unique learning experiences.
+++++
This episode is brought to you by GourmetQuilter. GourmetQuilter has been bringing original quilt patterns to the quilt world for the last 20 years, as well as many quilting tips and techniques video tutorials via GourmetQuilter on YouTube. 0nline projects are a specialty such as Block of the Day, what's in the Box Mystery quilts, Sew Alongs as well as many other delicious items. Go to www.gourmetquilter.com to learn more and use code CIA20 to receive a 20% discount on the GourmetQuilter book, That Town and Country Quilt, through Feb 29th 2020.
+++++
To get the full show notes for this episode visit Craft Industry Alliance where you can learn more about becoming a member of our supportive trade association. Strengthen your creative business, stay up to date on industry news, and build connections with forward-thinking craft professionals. Join today.