Episodes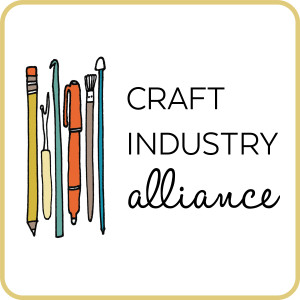 Monday Jul 18, 2022
Monday Jul 18, 2022
On today's episode of the Craft Industry Alliance podcast, we're talking about owning a local yarn shop with my guest, Ana Campos.
Ana is a Brazilian knitting instructor, fiber witch, and designer with over 20 years of knitting experience. She currently makes her home by the sea in Salem, Massachusetts, known as the Witch City. As a Latina and an immigrant, she values the opportunities for connection, community, and common ground that knitting creates. Ana's love for the knitting community led her to open Circle of Stitches, the witchiest yarn shop, in 2015. Her focus is on empowering knitters to grow their skills and technical knowledge, so everyone can make pieces they love. She is passionate about teaching students how to customize patterns for the perfect fit. She also loves teaching Portuguese knitting, which reminds her of her grandma Tina back home in Rio, and hosting her monthly tarot study group.
Ana is an inaugural member of the Vogue Knitting Diversity Advisory Council, and a co-creator of Latines y Lana, an ongoing project to elevate and share the work of Latine fiber artists. Ana loves helping folks find inspiration and expand their skills, and her favorite projects are sweaters and socks. 
When she is not at her shop, you can find her elbows-deep in her dye pots. Growing up in the tropics gave her a lifelong passion for bright colors and bold combinations, which she brings to her line of hand-dyed yarns, Toil & Trouble. She loves dyeing colorful sock yarns, and hopes this book will help you fall in love with socks too! Find Ana online at www.circleofstitches.com, on Instagram @circleofstitches and visit her store in person at 66 Wharf Street, Salem, MA.
+++++
This episode is sponsored by Craftsy.
Whether you're new to making, or looking to advance skills in a favorite hobby, Craftsy is the place to learn.  
With over 1,500 classes, there's something for everyone, from knitting and sewing, to baking and cooking, gardening, embroidery, quilting and more!  
Visit CraftsyOffers.com today and get a full year of Craftsy Premium Membership for just $3! That's 97% off the regular price! Start turning ideas into projects you can be proud of. 
+++++
To get the full show notes for this episode visit Craft Industry Alliance where you can learn more about becoming a member of our supportive trade association. Strengthen your creative business, stay up to date on industry news, and build connections with forward-thinking craft professionals. Join today.