Episodes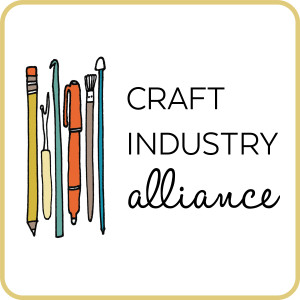 Monday Sep 05, 2022
Monday Sep 05, 2022
On today's episode of the Craft Industry Alliance podcast we're talking about knitwear design with my guest, Julie Robinson.
A more inclusive fiber industry isn't just possible, it's a necessity. 
Designer and educator Julie Robinson is leading through example. Julie is known for publishing fashion-forward knitting patterns in an inclusive size range. And her courses on the creative and technical aspects of knitwear design are training a new generation of technical editors and knitwear designers how to do the same.
Julie spent over a decade in New York City as a fashion designer and product developer for top brands. A life-long crafter, Julie was inspired to pursue a career in fashion to learn everything she could about making clothes. Her curiosity has led her to work on a wide variety of products including sweaters (of course), dresses, socks, and even augmented reality costumes. 
Now she's sharing what she has learned from her career in fashion with fellow fiber enthusiasts.
+++++
Today's episode is sponsored by The Academy for Virtual Teaching.
A community of creatives, building proficient, profitable, and professional online teaching businesses.
Adding online education into your business is a no-brainer for adding passive income, but what if you are tech-challenged? What equipment do you really need and how do you use it? How do you edit video? Where do you find an audience if you are a beginner? It can be overwhelming. 
Take a deep breath, relax, and let the Academy for Virtual Teaching walk you through every step of the process. Our Virtual Teaching Masterclass starts on September 12th. It's a live, hands-on course with all the information you need in one place. We have a plethora of practical tutorials on HOW to use all that technology along with weekly coaching sessions at different times to accommodate international time zones. We include extra lessons on marketing, website development, and business organization and administration. There is so much there that even experienced online teachers will find lots of ways to up their virtual teaching game.
Head over now to
a4vt.com
and see what we have to offer. That's A, the number 4, V, T .com. Come join the most supportive community you can imagine, and start building a business teaching what you love.
+++++
To get the full show notes for this episode visit Craft Industry Alliance where you can learn more about becoming a member of our supportive trade association. Strengthen your creative business, stay up to date on industry news, and build connections with forward-thinking craft professionals. Join today.